Attacking Your Colorado DUI – DWAI Case – Common Tactical Approaches
By H. Michael Steinberg Colorado DUI – DWAI – Criminal Defense Lawyer – Attorney
Attacking Your Colorado DUI – DWAI Case – Common Tactical Approaches
Does It Make Sense To Fight Your Colorado DUI Case With A DUI Criminal Defense Lawyer? What follows are multiple approaches to attacking the State of Colorado's case presented by a very experienced Colorado criminal defense lawyer – H. Michael Steinberg
1. Was The Stop Of Your Car Legal – Were You Legally Stopped?
If the police illegally stop you in or outside of your vehicle without a reasonable and articulate basis to believe that a traffic law or other law has been violated, the stop is illegal and anything – such as incriminating evidence that "flows" from that stop must be suppressed. Typically that means the dismissal of the case for lack of evidence.
2. Was The Arrest Legal – Was There Probable Cause To Arrest You?
Lack of probable cause to arrest- in Colorado, a law enforcement must have specific and articulable facts to support any arrest for DUI, or the suspension will be reversed and the evidence suppressed at trial.
3. Was The Search of Your Vehicle Legally Performed?
Was the search legal?- the police are prohibited from searching a person or the automobile for a minor traffic offense, and may not search a car without the driver's consent or having probable cause to do so. Any evidence that has been obtained illegal is not admissible at trial.
4. Can The Field Sobriety Tests Be Attacked?
Also known as roadside sobriety tests, these so called "standardized tests" are subject to many kinds of attacks. This kind of testing is notoriously inaccurate. For example – in healthy individuals, the one-leg stand test is only about 65% accurate, The walk-and-turn test – 68% accurate in determining in predicting whether or not a person is under the influence of alcohol and if the person being examined has any kind of injuries, medical conditions, is 50 pounds or greater overweight, or is 65 years or older, these tests are practically worthless.
The so called "non-standardized field tests" are also unreliable. The federal government (nhtsa) and most medical experts consider touching your finger to your nose, saying the alphabet, or counting backwards, are ALL considered invalid sobriety tests.
Finally field sobriety test must be properly administered. If they are not, according to the national highway and traffic safety administration, the results of improperly administered field tests invalidate the results of the tests and they are therefore not considered valid evidence of intoxication. Any medical and health problems such as problems with legs, arms, neck back and eyes will also affect the validity of the results of field sobriety tests and can skew the validity of breath test results (see below).
5. Breath Testing Machines and Devices
Breath testing devices have long been under attack as inaccurate. Experts in the field believe that relying on the breath tests alone without any other evidence of intoxication is an "unreliable" to determine whether or not someone is intoxicated while driving. Breath testing itself is subject to various inaccuracies, including a variance as much s +/- 12.5%.
Breath testing machines must also be properly operated. The manufactures of these machines warn that unless rigid and specific protocols have been followed in the administration of the test, the result is invalid.
6. Police Blood Alcohol Tests
Did the chosen person who drew the blood follow well established protocols for the testing, analysis, and preservation of the sample?
7. Was the Breath Test Operator Licensed And Recently Certified
Colorado requires a breath test machine operator to have a valid, unexpired operator's license.
8. Did The Breathalyzer Machine Malfunction?
If there was even one malfunction or repair of the breath test machine before or after a suspect's breath test, the results of the suspect's test may be presumed invalid.
9. Attacking The Evidence – The Failure To Prove DUI
What was the evidence of "driving." Were there any independent witnesses to the case such as bartenders, hospital personnel or others can provide crucial evidence of the defendant's sobriety.
10. If, After Arrest, There Were Incriminating Statements Made – Was The Defendent Mirandized?
If the suspect has been placed under arrest, or the equivalent of arrest, prosecutors may not use as evidence the incriminating statements (defendant in custody) for a DUI. The police must administer Miranda warnings and obtain a waiver.
11. What Was The Weather Like? The Impact Of Bad Weather
The Colorado criminal defense lawyer should obtain weather reports of the time in question. Were there high winds or low visibility? Does THIS explain poor driving and poor balance during the period of driving or performance during the field sobriety tests?
12. Were The Prior Inconsistent Statements Made By The Investigating Police Officers?
An experienced Colorado criminal defense lawyer should scrutinize every single statement made by a police officer, verbally, or in writing in the police reports. Searching through previous testimony can also be a mine of opportunities for the experienced attorney to attack that police officers' credibility.
13. Was There A Possibility Of "Post Driving" Absorption Of Alcohol?
In Colorado, the prosecutor – the State – must prove the blood alcohol test results were within 2 hours of the time of driving. The consumption of alcohol just prior to driving may cause the test results to be skewed and much higher than actual and precise level that occurred when the person was operating the automobile.
14. Were there "Interfering Substances" That Could Skew The Test Results?
Many products contain forms of alcohol that can lead to false results…these include asthma sprays, cough drops, certain kinds of paint and fingernail polish to name a few. These products can be used to attack a breath test result.
15. Forced Blood Draws
A recent (2013) United State Supreme Court decision calls into question the forced blood test in the context of DUI and other alcohol or drug based accident investigations. The police may not take forced blood tests against the driver's consent without a search warrant based upon probable cause.
Retain an experienced Colorado DUI Criminal Defense Lawyer who can defend you against charges of DUI – DWAI – DUID in this state's criminal courtrooms and bring these and other inherent inaccuracies to the attention of the judge or jury.
Attacking Your Colorado DUI – DWAI Case – Common Tactical Approaches
ABOUT THE AUTHOR: H. Michael Steinberg – Email The Author – A Denver Colorado DUI – DWAI – DUID Criminal Defense Lawyer – or call his office at 303-627-7777 during business hours – or call his cell if you cannot wait and need his immediate assistance – 720-220-2277.
If you are charged with A Colorado crime or you have questions about the topic of Attacking Your Colorado DUI – DWAI Case – Common Tactical Approaches, please call our office. The Law Offices of H. Michael Steinberg, in Denver, Colorado, provide criminal defense clients with effective, efficient, intelligent and strong legal advocacy. We can educate you and help you navigate the stressful and complex legal process related to your criminal defense issue.
H. Michael Steinberg, is a Denver, Colorado criminal defense lawyer with over 30 years of day to day courtroom experience – specializing in Colorado Criminal Law along the Front Range. He will provide you with a free initial case consultation to evaluate your legal issues and to answer your questions with an honest assessment of your options. Remember, it costs NOTHING to discuss your case. Call now for an immediate free phone consultation.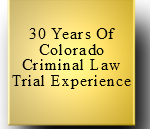 Helping Clients To Make Informed Decisions In the Defense of Colorado Criminal Cases.
Contact A Lawyer with Three Decades of Experience as a Denver Criminal Attorney at The Steinberg Colorado Criminal Defense Law Firm Today.
Colorado Defense Lawyer H. Michael Steinberg provides solid criminal defense for clients throughout the Front Range of Colorado – including the City and County courts of Adams County, Arapahoe County, City and County of Boulder, City and County of Broomfield, City and County of Denver, Douglas County, El Paso County – Colorado Springs, Gilpin County, Jefferson County, Larimer County, and Weld County,…. and all the other cities and counties of Colorado along the I-25 Corridor… on cases involving DUI 's and the topic of Attacking Your Colorado DUI – DWAI Case – Common Tactical Approaches.
Other Articles of Interest:
If you found the information provided on this webpage to be helpful, please click my Plus+1 button so that others may also find it.
___________________________
H. Michael Steinberg Esq.
Attorney and Counselor at Law
The Colorado Criminal Defense Law Firm of H. Michael Steinberg
A Denver, Colorado Lawyer Focused Exclusively On
Colorado Criminal Law For Over 30 Years.

DTC Quadrant Building
5445 DTC Parkway, Penthouse 4
Greenwood Village, Colorado, 80111

Main: 303.627.7777
Cell: 720.220.2277
24/7 Pager: 303.543.4433
FAX (Toll Free): 1.877.533.6276

Always investigate a lawyer's qualifications and experience before making a
decision to retain that lawyer or, for that matter, any professional ...in any field.