Weaving Within My Lane In Colorado – 42-4-1007- Can They Stop Me For Suspected DUI?
By H. Michael Steinberg Colorado DUI Defense Lawyer – Email the author at [email protected]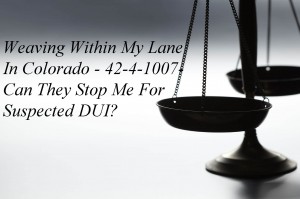 Weaving Within My Lane In Colorado – 42-4-1007 – Can They Stop Me For Suspected DUI? Although you would not know it if you talk to a DA or police officer – here it is -WEAVING WITHIN YOUR LANE IS NOT ILLEGAL – If you do NOT cross any lines there is no violation of Colorado's traffic code. If your car is stopped for ONLY that reason – it is an illegal stop and should be challenged as unconstitutional in court.
The law is clear – Weaving within a lane. You must drive within your lane "as nearly as practicable."
Here is the Law:
CRS 42-4-1007. Driving on roadways laned for traffic (failure to drive in a single lane
(1) Whenever any roadway has been divided into two or more clearly marked lanes for traffic, the following rules in addition to all others consistent with this section shall apply:
(a) A vehicle shall be driven as nearly as practicable entirely within a single lane and shall not be moved from such lane until the driver has first ascertained that such movement can be made with safety.
(b) Upon a roadway which is divided into three lanes and provides for two-way movement of traffic, a vehicle shall not be driven in the center lane except when overtaking and passing another vehicle traveling in the same direction where the roadway is clearly visible and such center lane is clear of traffic within a safe distance, or in preparation for a left turn, or where such center lane is at the time allocated exclusively to the traffic moving in the direction the vehicle is proceeding and is designated by official traffic control devices to give notice of such allocation. Under no condition shall an attempt be made to pass upon the shoulder or any portion of the roadway remaining to the right of the indicated right-hand traffic lane.
(c) Official traffic control devices may be erected directing specified traffic to use a designated lane or designating those lanes to be used by traffic moving in a particular direction regardless of the center of the roadway, and drivers of vehicles shall obey the directions of every such device.
(d) Official traffic control devices may be installed prohibiting the changing of lanes on sections of roadway, and drivers of vehicles shall obey the directions of every such device
(2) Any person who violates any provision of this section commits a class A traffic infraction.
What If I Weave Within My Lane and Weave Outside Only One Time?
Since Colorado's weaving law is somewhat vague – (it requires you to drive as nearly as is practicable within a single lane) a single weave may not be enough to stop your vehicle legally. That is – one weave outside your lane is probably insufficient evidence for a traffic violation to base a constitutional stop. Such a stop must be based on "reasonable suspicion" such that there must exist "articulable facts" beyond a mere hunch or a guess.
If a vehicle is stopped for a violation of a law, the police must be right about their interpretation of the law and have specific facts – and evidence – that they must identify in court.
Weaving Plus Difficult Driving Conditions – Grounds To Make The Stop?
A Colorado criminal defense lawyer – defending a DUI case where weaving is the reason used by the police to make a stop of suspected driving under the influence, will look for evidence in the case indicating difficult driving conditions or other kinds of adverse weather that might explain driving errors.
An example of an illegal stop might me a single instance of a vehicle moving into an emergency lane on a mountain road in windy conditions. One case has held that this does NOT raise a reasonable suspicion of violating the weaving statute.
It has been held that the DUI investigation is searching for the nebulous "indication of impairment." While it is clear that weaving alone is not necessarily indicative of impairment, when it is combined with failing to remain in a single lane and the lack of adverse driving conditions MAY BE indicative of impairment according to the courts.
When Do Ordinary Driving Errors Mean Reasonable Suspicion To Stop A Car For A Traffic Violation?
and..
What Does Reasonable Suspicion For The Stop Mean In This Context?
First the analysis begins with the fact that any stop of a vehicle is a "seizure for purposes of Fourth Amendment analysis."
An "investigatory stop" is justified at its inception ONLY if there exist specific and articulable facts and rational inferences drawn from those facts that give rise to a reasonable suspicion a person has or is committing a crime.
The Court reviews whether reasonable suspicion to justify the stop by reviewing the "totality of circumstances" to determine whether reasonable suspicion existed at the time of the stop.
This analysis requires an "objective inquiry" and NOT the police officer's subjective motivation for the stop. The officers subjective motivation for making the stop can play no role in reasonable suspicion (Fourth Amendment) analysis.
The courts will defer to "reasonable inferences" of law enforcement officers during the analysis and a police officer's reasonable mistake of fact may be used to support a finding of reasonable suspicion. However – as in the weaving statute – if there is a "mistake of law" – it will NOT support a finding of reasonable suspicion.
The Step By Step Analysis of Reasonable Suspicion Of A Crime Or Traffic Violation
An investigative detention must be based on reasonable suspicion of criminal activity.
Question One – Was even a seizure by the officer?
Question Two – Was the seizure was supported by adequate reasonable suspicion? (An officer may stop a person when the officer has reasonable suspicion to believe that the person has committed or is committing or is attempting to commit a crime.) Reasonable suspicion is substantially less than probable cause and considerably less than proof of wrongdoing by preponderance of evidence.
So Once Again – What Creates Reasonable Suspicion?
Reasonable suspicion will usually arise from a number of related factors and even if each fact appears to have an innocent and legitimate explanation, the Colorado courts look at the "totality of the circumstances" and this includes a police officer's training and experience.
It is important to quickly note – (and most people do NOT fully understand this legal nicety) – even if a fact or event has an innocent explanation – this does not necessarily defeat a conclusion of reasonable suspicion.
Any traffic violation, no matter how insignificant it is – whether it is a moving violation or a non-moving violation, will justify a traffic stop. For example equipment violations may justify a stop – these include license tag light out, a license plate that is obscured or is not visible from a reasonably safe distance.
Conclusion – Weaving As Justification For Stopping A Vehicle In Colorado
Weaving within the lane may support a stop if it happens multiple times and there is no other reason explaining the weaving – such as heavy and sustained winds. But if the weaving is not significant, and there is no other violation of the law, there is usually insufficient reasonable suspicion for a stop.
A federal court once remarked in this context:
"If failure to follow a perfect vector down the highway were sufficient reason to suspect a person of driving while impaired, a substantial portion of the public would be subject each day to an invasion of their privacy."
Weaving Within My Lane In Colorado – 42-4-1007- Can They Stop Me For Suspected DUI?
If you found any information I have provided on this web page article helpful please click my Plus+1 button below so that others may also find it.
ABOUT THE AUTHOR: H. Michael Steinberg – Email The Author at [email protected] – A Denver Colorado DUI Criminal Defense Lawyer – or call his office at 303-627-7777 during business hours – or call his cell if you cannot wait and need his immediate assistance – 720-220-2277.
If you are charged with A Colorado crime or you have questions about the topic of this article – Weaving Within My Lane In Colorado – 42-4-1007- Can They Stop Me For Suspected DUI?, please call our office. The Law Offices of H. Michael Steinberg, in Denver, Colorado, provide criminal defense clients with effective, efficient, intelligent and strong legal advocacy. We can educate you and help you navigate the stressful and complex legal process related to your criminal defense issue.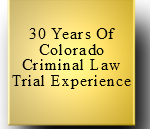 H. Michael Steinberg, is a Denver, Colorado criminal defense lawyer with over 30 years of day to day courtroom experience – specializing in Colorado Criminal Law along the Front Range. He will provide you with a free initial case consultation to evaluate your legal issues and to answer your questions with an honest assessment of your options. Remember, it costs NOTHING to discuss your case. Call now for an immediate free phone consultation.
Helping Clients To Make Informed Decisions In the Defense of Colorado Criminal Cases.
Contact A Lawyer with Three Decades of Experience as a Denver Criminal Attorney at The Steinberg Colorado Criminal Defense Law Firm today.
Colorado Defense Lawyer H. Michael Steinberg provides solid criminal defense for clients throughout the Front Range of Colorado – including the City and County courts of Adams County, Arapahoe County, City and County of Boulder, City and County of Broomfield, City and County of Denver, Douglas County, El Paso County – Colorado Springs, Gilpin County, Jefferson County, Larimer County, and Weld County. and all the other cities and counties of Colorado along the I-25 Corridor… on cases involving this topic – Weaving Within My Lane In Colorado – 42-4-1007- Can They Stop Me For Suspected DUI? 
Other Articles of Interest:
If you found the information provided on this webpage to be helpful, please click my Plus+1 button so that others may also find it.
___________________________
H. Michael Steinberg Esq.
Attorney and Counselor at Law
The Colorado Criminal Defense Law Firm of H. Michael Steinberg
A Denver, Colorado Lawyer Focused Exclusively On
Colorado Criminal Law For Over 30 Years.

DTC Quadrant Building
5445 DTC Parkway, Penthouse 4
Greenwood Village, Colorado, 80111

Main: 303.627.7777
Cell: 720.220.2277
24/7 Pager: 303.543.4433
FAX (Toll Free): 1.877.533.6276

Always investigate a lawyer's qualifications and experience before making a
decision to retain that lawyer or, for that matter, any professional ...in any field.