What Should I Do If I Am Stopped On Suspicion Of DUI
By H. Michael Steinberg Colorado DUI Criminal Defense Lawyer
What Should I Do If I Am Stopped On Suspicion Of DUI? – In 2010, the Colorado state legislature enhanced the consequences for DUI-DWAI-DUID convictions which means that – more than ever – understanding your rights is critical to your successful defense to the charges.
The Balance Between The Rights Of Law Enforcement and Your Constitutional Rights
The police have a role in our lives. They are not the bad guys – they risk their safety to ensure our safety every time they take to the streets of our great state. While the police have the right to enforce the law and those rights are certainly very powerful – your rights – if you have the stamina and courage to assert them – are equally powerful. Understanding this "balance" requires a study of Colorado criminal law.
If you "know your rights" then law enforcement must respect that knowledge and honor them. When you are ignorant of your rights – that is when you are subjected to tried and true techniques for building a case against you.
Knowing what to say and do when you are stopped and investigated for suspicion of DUI – is what this article is all about.
What Are You Supposed To Do When You Are Pulled Over By Colorado Law Enforcement?
In the context of a DUI-DWAI-DUID investigation you must always keep one thing in mind – the police are always building their case – bit by bit they are assembling "evidence" that you are intoxicated. Keeping this in mind – anything you say – anything you do – can be used as evidence.
Therefore – here is Rule 1: – move as little as possible – speak as little as possible – cooperate only when you have to.
Anything you say how you say it can be used as evidence or even how you say it (slurred words, confusion) could be used as evidence. The law requires ONLY that you provide 3 things (1) Your driver's license, (2) Proof of registration, and (3) Proof of automobile insurance.
Rule 2: You are under no legal obligation to provide anything else to the police. While the police have the right to order you out of the car for their own safety and they can move you around and even handcuff you if they have probable cause to arrest you, the only other interaction you must have with them is to passively listen to the Colorado Express Consent Law advisement decide – silently -whether you will "take the test" or not.
Rule 3: Do NOT Cooperate – When the officer asks you to please take the Roadside Field Sobriety Tests – you will politely say NO thank you. If the police ask you any questions about where you were that night, how much you had to drink, what drugs you may have taken, who you were with and where you were "drinking" – ASK to speak to a lawyer and don't answer ANY questions.
This is much harder than it may seem. It will not be "comfortable?" It may seem rude – impolite – unfair – and even unjust. You will have the motivation to "tell your side of the story." This is natural – fight the urge. Do not give in.. Be strong. This is not the time for diplomacy or good manners as a reason to answer questions that will be turned on you at trial.
What Should I Do If I Am Stopped On Suspicion Of DUI? – An Example Of What NOT To Do
The officer asks you – "have you been drinking" you answer "no" but the officer smells alcohol on your clothes or your breath – the jury will believe that is true. If they do – you – by definition are a liar and nothing you say will be believed if you testify at trial.
On the other hand – if you take the Fifth and assert your right to remain silent – this assertion – the exercise of your right to remain silent – does NOT come into evidence at trial. While the law allows the DA to tell the jury you refused to "take the test" the DA is NOT allowed to tell the jury you refused to answer any other questions.
Refusing The Roadside Sobriety Tests
You do NOT have to do the roadside sobriety tests. Once again – you do NOT have to take the roadside sobriety tests. EVER. They are voluntary. You must not take them because you will not pass them – no matter how sober you think you are. They are designed and used to build the case against you.
It is no surprise to anyone who defends these cases that very few people realize they have the absolute right to refuse the field sobriety tests. "Roadsides" are no-win situation. There is no reason to submit to a "test" designed to make you fail. Unlike the refusal to take the blood or breath test – the refusal to do the roadsides can never be used against you.
You also do NOT have to consent to a PBT – a preliminary breath test. Like all of the other field -sobriety tests, the police use the PBT (not admissible at trial) to build a case for probable cause to arrest you and to trigger the provisions of the Express Consent Law.
Should I Take The "Express Consent" Blood or Breath Test?
There is no question that the absence of a test result MAY make it harder in a DUI case for the State to prove their case "beyond a reasonable doubt." On the other hand, if the test is low – for example between .05 and .08 – it may be better, for trial reasons, to take the test.
But the analysis does NOT END THERE – more thoght is necessary…
What Is The Colorado Expressed Consent Law?
Under Colorado law you are required to take a breath or blood test if you are arrested for a DUI, underage drunk driving (UDD), driving while impaired (DWAI) or you are under the influence of drugs (DUID).
The law is clear – if you are lawfully arrested – (that means the police had "probable cause' to believe that you have been driving under the influence, then you are required to consent to taking a chemical test of your blood or breath for the purpose of determining your blood alcohol content (BAC).
The Colorado Expressed Consent Law – 42-4-1301 – can be read – in it's entirety by hitting this link – 42-4-1301
The Decision To Refuse – First Offense – Refusing to Take "The Test"
In Colorado, if the DMV finds that there was probable cause to believe you were driving under he influence – the state will suspend your license for refusing to take the chemical test. This applies to blood or breath test for alcohol or a blood test for drugs. As of 2014 – if this is a first refusal, you will lose your complete right to drive under all circumstances for 60 days – followed by two years on the interlock device.
For your second refusal, you lose your license for two years. For your third and any subsequent refusal, you lose your license for three years. The civil penalties – that is – driver's license related punishments for refusing to submit to a chemical tests – can be located in Colorado Revised Statute 42-2-126 – Here is a LINK. 42-2-126. Revocation of license based on administrative determination.
Taking The Fifth – Not Applicable To "The Test"
It runs contrary to common sense that you are NOT ALLOWED to plea the "fifth" and refuse to take the chemical test. In Colorado – the right against self-incrimination does not apply to a refusal to take the test…. furthermore – your refusal to take the test can be admitted as evidence in court as evidence of your guilt.
In felony cases involving drinking and driving – you can be forced to take a mandatory blood test. That applies to an arrest – for example – for vehicular homicide or vehicular assault. Colorado law provides for actual physical restraint to take your blood and this applies even if you are unconscious. 42-4-1301.1
Asking for a lawyer at this point to assist you with making the decision is deemed a refusal. When a suspect does not submit to the test because he or she "wants to talk to his attorney before deciding whether to take the test, THAT is a refusal.
Refusing to Take a Mandatory DUI Test
Refusing the test – is NOT usually a good idea. Contrary to popular belief – while it may make it more difficult as noted for the state of Colorado to prove their case – refusing "the test" is no guarantee that you won't be still convicted. The test is only one piece of evidence (see above) and you can still be found guilty of a DUI – DWAI or DUID and the prosecution can use your informed decision to refuse the test against you at trial by arguing that you refused the test because you aware you would fail it in that you knew that you were intoxicated and guilty of an alcohol or drug related DUI.
Finally, a refusal – especially on a first offense – may have a greater impact on your life – as in the right to drive – than the DUI – DWAI – DUID conviction.
Why Hire A DUI Lawyer In Colorado?
It is a myth to believe that lawyers work miracles. They do not.
If a case is weak – a lawyer can help negotiate a possible dismissal, if it is strong – a lawyer many be able to get the charge amended to a lower offense, and a case is close and the risks of a sever sentence are great – a lawyer may be able to help you to exercise your right to a trial.
What Should I Do If I Am Stopped On Suspicion Of DUI?
ABOUT THE AUTHOR: H. Michael Steinberg – Email The Author – A Denver Colorado DUI – DWAI – DUDI Criminal Defense Lawyer – or call his office at 303-627-7777 during business hours – or call his cell if you cannot wait and need his immediate assistance – 720-227-7777.
If you are charged with A Colorado crime or you have questions about [shoplifting or grand theft], please call our office. The Law Offices of H. Michael Steinberg, in Denver, Colorado, provide criminal defense clients with effective, efficient, intelligent and strong legal advocacy. We can educate you and help you navigate the stressful and complex legal process related to your criminal defense issue.
H. Michael Steinberg, is a Denver, Colorado criminal defense lawyer with over 30 years of day to day courtroom experience –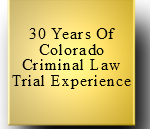 specializing in Colorado Criminal Law along the Front Range. He will provide you with a free initial case consultation to evaluate your legal issues and to answer your questions with an honest assessment of your options. Remember, it costs NOTHING to discuss your case. Call now for an immediate free phone consultation.
Helping Clients To Make Informed Decisions In the Defense of Colorado Criminal Cases.
Contact A Lawyer with Three Decades of Experience as a Denver Criminal Attorney at The Steinberg Colorado Criminal Defense Law Firm Today.
Colorado Defense Lawyer H. Michael Steinberg provides solid criminal defense for clients throughout the Front Range of Colorado – including the City and County courts of Adams County, Arapahoe County, City and County of Boulder, City and County of Broomfield, City and County of Denver, Douglas County, El Paso County – Colorado Springs, Gilpin County, Jefferson County, Larimer County, and Weld County,…. and all the other cities and counties of Colorado along the I-25 Corridor… cases that ask the question – What Should I Do If I Am Stopped On Suspicion Of DUI?.
Other Articles of Interest:
If you found the information provided on this webpage to be helpful, please click my Plus+1 button so that others may also find it.
___________________________
H. Michael Steinberg Esq.
Attorney and Counselor at Law
The Colorado Criminal Defense Law Firm of H. Michael Steinberg
A Denver, Colorado Lawyer Focused Exclusively On
Colorado Criminal Law For Over 30 Years.

DTC Quadrant Building
5445 DTC Parkway, Penthouse 4
Greenwood Village, Colorado, 80111

Main: 303.627.7777
Cell: 720.220.2277
24/7 Pager: 303.543.4433
FAX (Toll Free): 1.877.533.6276

Always investigate a lawyer's qualifications and experience before making a
decision to retain that lawyer or, for that matter, any professional ...in any field.